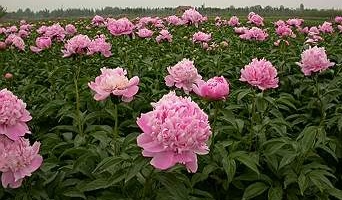 Heze Spring Nursery was started in 1995, aiming to supplying top quality bare root peonies of the best Chinese peonies to our customers.. We are mainly growing Chinese tree peonies( Paeonia Suffruticosa ), Chinese herbaceous peonies( Paeonia lactiflora) and Paeonia Rockii. We ship true to name peonies only. We supply top quality plants at the most competitive price. We have enough experiences on exporting peonies plants to different countries.
Due to our good quality and good service, our nursery extend quickly.Since 2007, we are the biggest Chinese tree peony supplier in Europe.Our clients includes the biggest tree peony importer in Europe and the biggest tree peony grower in Holland.
We welcome you to visit us. In Heze Tree peonies bloom from mid-April through early-May, herbaceous peonies bloom from early-May through late-May. PLease contact us for the best transportation method.
We are member of China Flower Association.